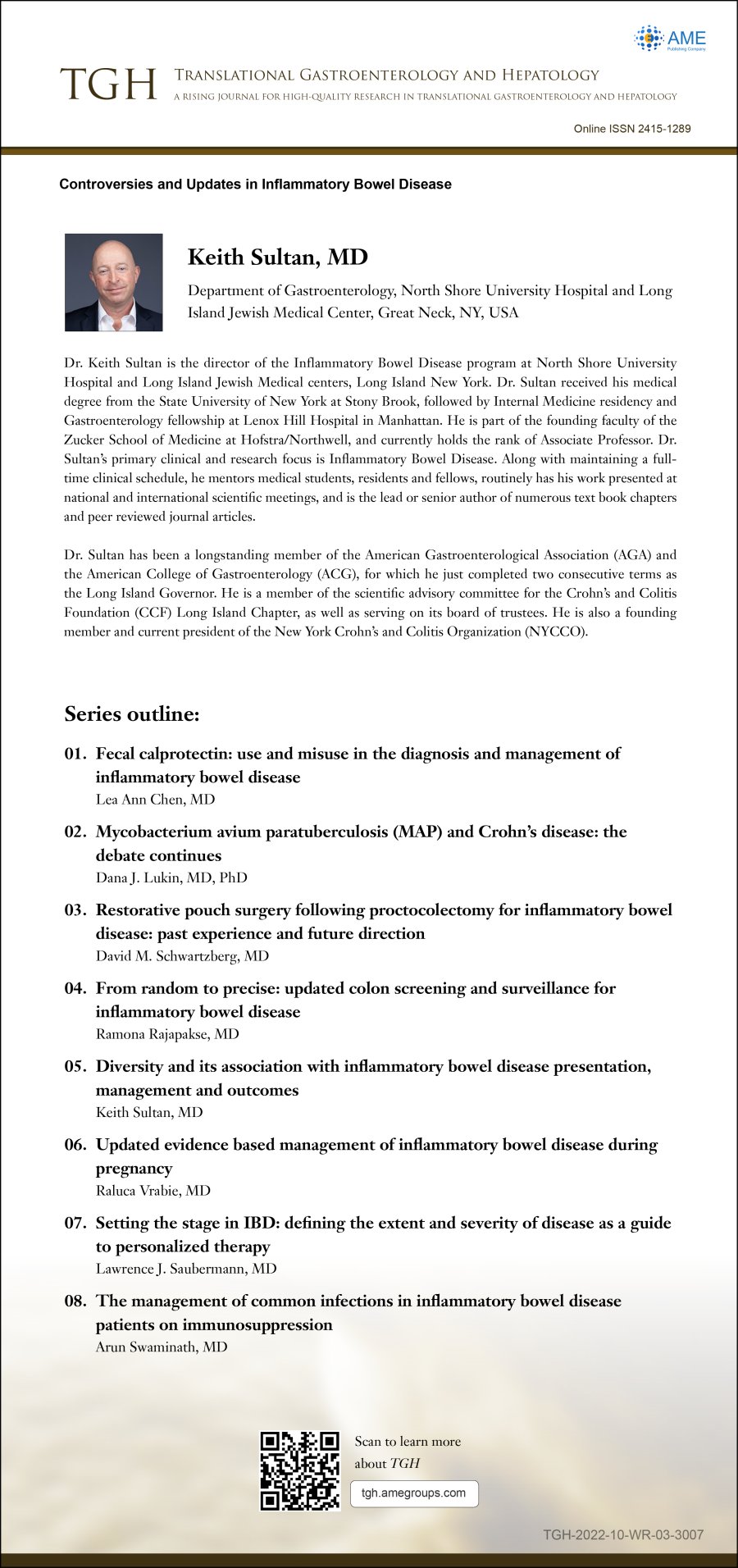 The series on "Controversies and Updates in Inflammatory Bowel Disease" is edited by Dr. Keith Sultan from Department of Gastroenterology, North Shore University Hospital and Long Island Jewish Medical Center, Great Neck, NY, USA.
Dr. Keith Sultan is the director of the Inflammatory Bowel Disease program at North Shore University Hospital and Long Island Jewish Medical centers, Long Island New York. Dr. Sultan received his medical degree from the State University of New York at Stony Brook, followed by Internal Medicine residency and Gastroenterology fellowship at Lenox Hill Hospital in Manhattan. He is part of the founding faculty of the Zucker School of Medicine at Hofstra/Northwell, and currently holds the rank of Associate Professor. Dr. Sultan's primary clinical and research focus is Inflammatory Bowel Disease. Along with maintaining a full-time clinical schedule, he mentors medical students, residents and fellows, routinely has his work presented at national and international scientific meetings, and is the lead or senior author of numerous text book chapters and peer reviewed journal articles.
Dr. Sultan has been a longstanding member of the American Gastroenterological Association (AGA) and the American College of Gastroenterology (ACG), for which he just completed two consecutive terms as the Long Island Governor. He is a member of the scientific advisory committee for the Crohn's and Colitis Foundation (CCF) Long Island Chapter, as well as serving on its board of trustees. He is also a founding member and current president of the New York Crohn's and Colitis Organization (NYCCO).
Series Outline:
Fecal calprotectin: use and misuse in the diagnosis and management of inflammatory bowel disease
Lea Ann Chen, MD
Mycobacterium avium paratuberculosis (MAP) and Crohn's disease: the debate continues
Dana J. Lukin, MD, PhD
Restorative pouch surgery following proctocolectomy for inflammatory bowel disease: past experience and future direction
David M. Schwartzberg, MD
From random to precise: updated colon screening and surveillance for inflammatory bowel disease
Ramona Rajapakse, MD
Diversity and its association with inflammatory bowel disease presentation, management and outcomes
Keith Sultan, MD
Updated evidence based management of inflammatory bowel disease during pregnancy
Raluca Vrabie, MD
Setting the stage in IBD: defining the extent and severity of disease as a guide to personalized therapy
Lawrence J. Saubermann, MD
The management of common infections in inflammatory bowel disease patients on immunosuppression
Arun Swaminath, MD
Disclosure:
The series "Controversies and Updates in Inflammatory Bowel Disease" was commissioned by the editorial office, Translational Gastroenterology and Hepatology without any sponsorship or funding. Keith Sultan is serving as the unpaid Guest Editor for the series.